The Temple of Heaven, or Tian Tan, is the most famous temple in Beijing and one of the largest sacred sites in China.
The Temple of Heaven, or Tian Tan, is one of the largest sacred sites in China. Built during the Ming dynasty, it was the place where the emperor made sacrifices to thank heaven for the fruits obtained and prayed for future crops.
The temple is located in a beautiful park that many Chinese citizens use to practice tai chi, play cards, fly kites and participate in dance classes.
What to see in the Temple of Heaven
The Temple of Heaven has an area of 273 hectares with different buildings that were dedicated to paying homage to the God of Heaven. The most important buildings include:
Qinian Dian: The Temple of the Good Harvest is a striking blue circular building that symbolises Heaven. It's the temple that comes to mind when we think of the Temple of Heaven.
Circular Altar: Built with marble slabs distributed in nine concentric circles, the location where the emperor made the sacrifices is the most important part of the temple.
Imperial Vault of Heaven: The pavilion that was used to store the ceremonial elements is surrounded by the Echo Wall, a panel that produces amazing sound effects.
Hall of Abstinence: The building in which the emperor spent the night before the rituals is a small recreation of the Forbidden City.

The park
The buildings around the Temple of Heaven are preserved in optimal conditions and are an essential visit. Also in the park, you can see older citizens enjoying lively dances and board games.
On the way out of the subway, it's common for rickshaw drivers to convince you that the temple is very far away. If you don't accept their services, they'll send you the long way around, so it's best to ignore them.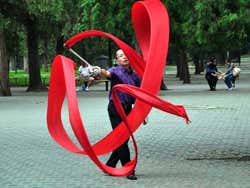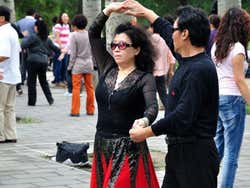 Schedule
Enclosure: from 6 am to 10 pm
Points of interest: from 8 am to 5 pm
Price
Adults: ¥ 35 (US$ 4.90) 
Low season: ¥ 30 (US$ 4.20)
Transport
Bus: lines 2, 6, 7, 15, 17, 20, 34, 35, 36, 39, 41, 43, 60, 105, 116, 120, 122, 610, 705, 707, 723, 743, 800, 803, 807, 812, 813, 819, 822, 957 and 958.