The Beijing Olympic Village was the venue for the 2008 Beijing Olympic Games. Get to know its amazing stadiums and buildings.
The buildings that make up the Beijing Olympic Village hosted the 16,000 athletes who participated in the 2008 Olympic Games.
Symbolic buildings
Beijing National Stadium: Built in the shape of a bird's nest, the steel beams are randomly interlocked to form one of the most unique buildings in the world. The curious oval building, which is 330 metres long and 220 metres wide, is equipped to use solar energy and collects rainwater to be used for irrigation.
Beijing National Aquatic Centre: With a design that resembles a huge bucket of water, the aquatic centre is the venue for swimming, synchronized swimming and jumping competitions.
Olympic Torch: The large torch-shaped structure was responsible for hosting the Olympic Flame during the 2008 games.
Evening entertainment
If you have time to visit the Olympic Village in Beijing, it's best to do so at night. During the day the buildings are more inconspicuous but when night falls, each construction acquires a special colour and the area fills with charm.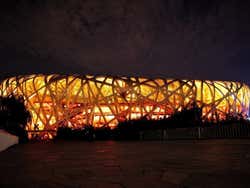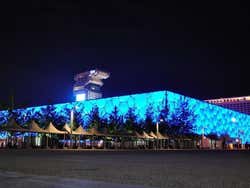 Transport
Subway: Olympic Sports Centre, line 8.