Built mostly in the 21st century, the Beijing metro is new, broad and very economical. A great option for getting around the city.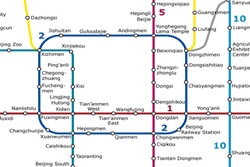 Beijing subway
The Beijing subway is new, broad and very economical. Among its drawbacks are saturation, the few connections between lines and the fact that it closes at night. Due to the price of taxis, it can be common for people to opt for that option.
Lines 
The current network consists of 19 lines, most of which were built in 2000. Until that year there were only 2 lines, both inaugurated in 1971. 
Due to the size of the city and a large number of residents, the subway network will continue to expand during this decade to reach 1,000 kilometres (it currently has 574).
Timetable and frequency
Although the schedule of the Beijing subway depends on each line, it's normal for trains to run between approximately 5 am and 11 pm.
The frequency depends on the line and the time of day. At rush hour trains pass almost in a row, while at night the frequency is much lower. It's normal not to have to wait around 5 minutes at a stop.
Fares
The price of the Beijing subway is between 3 and 10 yuan per way and allows unlimited transfers. A small saving is possible when using the Yikatong Card.