Beihai Park is a beautiful imperial garden that opened to the public in 1925.  It covers 69 hectares and has a large lake that makes up most of the park.
Beihai Park, also known as Winter Palace, is one of the most charming places in the city. First built in the 11th century the park covers 69 hectares with a large lake, which the park gets its name from. 
Points of interest
Beihai Park offers the possibility to spend several hours walking and enjoying its landscape due to its large extension. As well as the enormous lake and vibrant atmosphere, the enclosure has several traditional pavilions and striking temples. These are some of the most important points:
White Dagoba: When the Dalai Lama visited Beijing in 1651, this enormous white tulip was built on the central island of the lake.
Jingxin Room: Traditional garden of 4,000 square meters.
Nine Dragon Wall: Constructed in 1902, this colourful wall is similar to the one you can see inside the Forbidden City.
Buddhist Temples: Inside the park, you'll find several Buddhist temples, such as the Yong'an Temple and the Chanfu Temple.

A special part of the city
The beauty of the buildings within Beihai Park combines perfectly with the green landscape and the lake, where you can take a boat ride, adds a unique highlight to the visit.
Beihai Park is the perfect place to rest after hiking around Jingshan Park.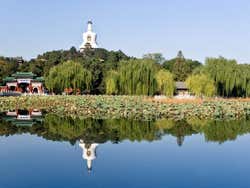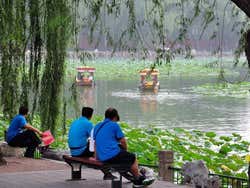 Schedule
June to August: 6:30 am to 9 pm
September to May: from 6:30 to 8 pm
Price
Adults: ¥ 10 (US$ 1.40)
Students: ¥ 5 (US$ 0.70)
Visits to temples are not included.
Transport
Bus: 5, 101, 103, 107, 109, 111, 118, 701, 812, 814, 823 and 846.