Built in 1994, the Beijing Central Radio and Television Tower is an observation tower and the tallest structure in the city.
 Although the Beijing Central Radio and TV Tower is 405 metres tall, most of its length is due to the enormous antenna.
Tower levels
Revolving restaurant: Located at 221 metres above sea level, the revolving restaurant in the TV Tower is the highest restaurant in the city.
Covered platform: During the cold winter days it's more comfortable to admire the city from the glass platform that is located at 225 metres high.
Uncovered platform: The best views from the tower are obtained from the upper platform, located at 238 metres high. This level offers panoramic views of the city with no glass in between.

Bird's eye view of Beijing
Although it's somewhat distant from the centre and not easily accessible by public transport, the TV Tower is a great place to see the beauty of the city from the heights.
If you don't have too much time, Jingshan Park is a more central location to admire the Forbidden City from up high.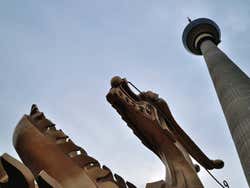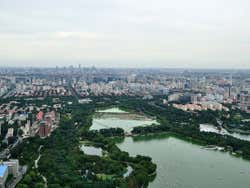 Schedule
Every day between 8:30 am and 10 pm.
Transport
Bus: lines 40, 64, 102, 103, 201, 323, 374, 394, 624, 631, 809, 811, 836 and 944.
Subway: Gongzhufen, line 1.